Michael S.F. Ho, D.M.D. - Periodontist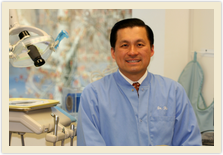 Michael Ho, D.M.D. - Periodontist
Doctor Profile
Specialty: Periodontist
Languages Spoken: English and Chinese (Mandarin + Cantonese).
Sex: Male

Education:
Boston University Goldman School of Graduate Dentistry.
Awarded the degree of Doctor of Dental Medicine.
Awarded the Certificate of Advanced Graduate Studies in Periodontology.

Licensure and Certification:
Registered Dentist, Massachusetts

Memberships:
American Dental Association
Massachusetts Dental Society
Working Locations:
Framingham
:
Every other Tuesday 10:00 a.m. - 7:00 p.m.
Please note
: Dr. Ho is not a provider for any State dental plans like MassHealth, Commonwealth Care, or Celticare insurance plans.